Migrating From an On-Premises PBX to the Cloud: Enabling the Hybrid Office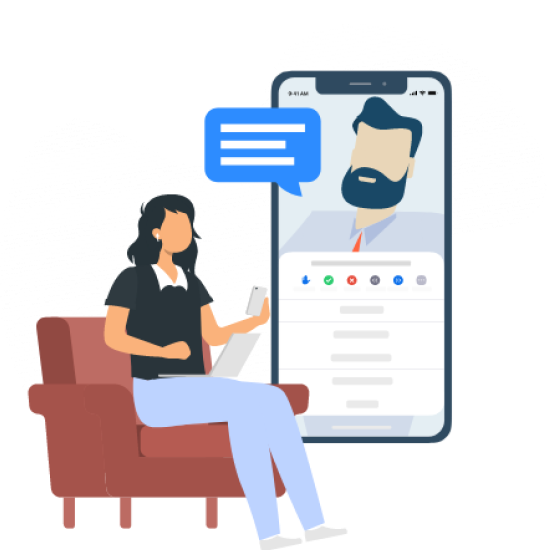 Cloud has dominated the cloud vs. on-premises debate when it comes to voice communications. Most businesses are moving to the cloud and increasingly choosing a UCaaS (Unified Communications as a Service) model as part of that migration.
In fact, in recent years, premises-based voice deployments are declining while deployments of cloud solutions are increasing.
Workplace Communications — Licenses and Unit Shipments | Q3 2017 — Q3 2020
From Q3 2017 to Q3 2020, On-Premises IP Line shipments decreased 6%, Phone Shipments decreased by 29%, and On-Premises UC Client shipments decreased by 4%. Quarter-over-quarter (QoQ), On-Premises IP Lines shipments decreased by 9%, Phone Shipments declined by 11%.
Starting with the onset of COVID-19, companies' adjustments to support business continuity suggest that those who don't move to the cloud stand the risk of falling behind.
Notes: numbers in 000's
Souce: Wainhouse, Q3 2020 UC SpotCheck
Another factor influencing the move to the cloud is that many legacy PBXs are at the end of life, and manufacturers are starting to end support. Finding resources to manage a legacy PBX can be challenging as most administrators have adopted more modern cloud administrator skill sets.
As organizations shift to hybrid work environments, modernizing their communications becomes business-critical. Many employees will continue to work from home or another remote location for the foreseeable future.
"Our research shows that as businesses worldwide begin to move employees back to the office, 38% of businesses will have increased levels of remote working. Businesses continue to look to UC for employee productivity gains by providing them with more tools and flexibility, which includes collaboration, video, and voice communications. The cloud gives administrators more options for the deployment and management of UC, in addition to the latest and most up-to-date features and applications."
Diane Myers, Chief Analyst, Enterprise Communications at Omdia
One benefit of moving voice to the cloud is that it often comes with a complete UCaaS offering, which facilitates internal and external communication across various modalities, replacing a voice-only solution.
Many organizations also prefer a cloud solution. It provides more predictable control over spending, allowing them to expand and contract the services with the ebbs and flows of their business needs.
The communication needs of most businesses have now outpaced the capabilities of a legacy PBX. Employees are increasingly working from home or another remote location. There will always be a need for the "road warrior" who lives on a mobile device for personal and business communications. As a result, cloud-based communications continue rapid growth as companies recognize the flexibility, simplicity, and lower overhead cost associated with a cloud solution.
Rather than simply replacing an old phone system with a new phone system, use this transition to provide enhanced unified communications capabilities, including messaging and meetings, that make your workers more productive and effective. Your phone solution should effortlessly enable users to transition between chat, calling, and meetings. It should also provide an intuitive experience across various devices from mobile to desktop or desk phone.
Using this opportunity to expand the capabilities of your phone system to a full-featured UCaaS solution will provide several benefits:
Business continuity – Cloud applications and connectivity options remove chances of service disruption associated with hardware on the premises and trunks from the premises to the PSTN network. The cloud PBX service logic, features, and connectivity are built on geographically redundant and reliable data centers in the cloud so calls can always be routed and answered with flexible options. Businesses can advertise a single identifying number across various modalities, such as calling, SMS, chat, and added capabilities like collaboration, video meetings, whiteboarding, and flexible rooms. Employees can work from any location, anytime, on any device, and still be productive.
Mobility – Cloud communications solutions like Zoom provide a robust experience on mobile devices as well as desktops, making the business phone available to users no matter where they are working. A single application ensures a single intuitive user experience for employees no matter where they are and what device they use.
Integration with third-party applications – Cloud solutions are constantly innovating, and providing the ability to integrate with line-of-business applications seamlessly is a cornerstone of UCaaS. Employees will appreciate the ability to initiate communications directly from their applications as part of their job. Zoom regularly adds integrations for industry-specific applications.
Manageability – Administering and managing a cloud communications solution via a web portal makes it easy to access anytime and anywhere the administrator has an internet connection. In addition, Zoom designs administrator portals to be intuitive and easy, so administrators do not have to be IT experts in managing the system.
Single-platform user experience – In the past, a legacy PBX only handled telephony, so users would need separate software for web conferencing or messaging. With today's unified solutions, a single platform with one client is required for a user to have a full suite of communication modalities. User onboarding and adoption is much easier when there is only one client to install and learn.
Scalability – Cloud communications expand and contract with the flow of your business. When you add employees or locations, you simply add users to the license, which creates a new account. Similarly, when you close a location or downsize, you can deactivate users in the administrator portal. It's easy to right-size your communications solution by only using the resources you need.
Global availability – Unlike on-premises solutions built on on-prem hardware, the cloud data centers can be designed for global reliability over a robust global network. This resiliency supports users no matter their location, natively routing traffic for the best performance of real-time communications.
Agility & innovation – Cloud solutions are constantly innovating and adding new features and functionality. These updates are part of a regular software release cycle. Businesses rapidly benefit from cloud-speed adoption of new features, fixes, and security enhancements without the burden experienced when keeping on-premises solutions updated.
Total cost of ownership – Over the past few years, digital transformation has led companies to transform their business operations and leverage tools that help them improve collaboration, be agile and innovative, and remain competitive in their fields. With cloud communications, businesses can leverage the security and reliability and gain from the economy of scale offered by a cloud provider regardless of their size – from micro-business, small and medium-sized businesses (SMB), and enterprises. They can integrate their calling needs into their broader digital transformation initiatives to increase user collaboration and productivity, reduce the total cost of ownership (TCO), and improve business outcomes.
UCaas drivers
Based on surveys conducted by Omdia Research for drivers to adopt unified communications as a service, the key reasons center on improving employee productivity and digital transformation initiatives catapulted by the pandemic experience when businesses had to send all employees to work from home indefinitely. Executives are demanding this transformation to enable employees to work flexibly with mobility, so their company can remain competitive and responsive while reducing their total operations cost.
Zoom Phone is a key component of the Zoom UCaaS platform, which delivers a seamless experience across communication modalities. Key benefits of Zoom as your unified communications solution include:
Single robust platform: The Zoom platform delivers phone, meetings, chat, webinar, rooms, APIs, and a rich developer ecosystem. One intuitive user experience spans calling across mobile, desktop, and deskphone.
Video-first architecture: Zoom is cloud-native and optimized for video from the very beginning. Our architecture enables meetings to be distributed across our data center network for maximum uptime, platform scalability, and a reliable communications experience.
Rapid innovation and third-party integrations: Zoom delivers product enhancements and new features regularly, and Zoom Phone alone includes more than 400 features. Zoom Phone also integrates with popular business applications, including Salesforce, Google Workspace, Slack, and Microsoft Teams, for seamless connectivity and improved productivity.
Modern phone features for the whole team: From sales and customer support roles, receptionists and office managers, and even executives, Zoom Phone provides expansive capabilities for everyone in your organization.
End user features
Single client experience: Zoom is available on PC, Mac, iOS, and Android. Once licenses are provisioned, users have a full-featured phone experience available in the Zoom mobile and desktop application.
Mobility: Access Zoom Phone from a mobile device, so you don't have to use your personal number for business on the go.
SMS/MMS: Send and receive text messages (SMS) using the Zoom desktop client or mobile app.
Elevate to meeting: While on a phone call, elevate to a Zoom video meeting. Other Zoom Phone users will automatically be invited to join the meeting. Other phone users will join the Zoom meeting as phone-only participants.
Call Flip: Place a call on hold and answer it from another device – the Zoom desktop client, mobile app, or Zoom-provisioned desk phone.
Call Monitoring: This set of features allows a user to engage with another user's calls. Monitoring options include:

Listen: A Zoom Phone user can listen to a call made by another Zoom Phone user without the other parties being aware.
Whisper: A Zoom Phone user can speak to the monitored user in a call without other parties being aware.
Barge: A Zoom Phone user can join a call and speak to all parties. The call will become a three-way call.
Take over: A Zoom Phone user can take over the call from the monitored user.

Call Recording: Create an ad hoc phone call recording in case of an abusive call or crisis scenario that would require a government record.
Administrator & system features
Safety & security: Zoom Phone uses 256-bit AES-GCM encryption and integrates with paging systems, emergency broadcast systems, and physical phone devices from a variety of manufacturers.
Nomadic E911: Contact emergency services from any location and simultaneously alert an internal safety team without an additional 911 service provider.
Call Queues: Embrace powerful queuing capabilities with the ability to define automatic call distribution and queue overflow rules.
Auto Attendants: Easily build auto-answering options to address main line incoming calls.
Interactive voice response (IVR) system: Customize business hours, greeting prompts, routing rules, and the voice response menu.
Admin portal: Designed to be easy and intuitive for non-IT experts to use, the Zoom administrator portal provides robust management tools that large enterprise companies demand. There is no command-line programming required for a Zoom administrator.
Reporting, analytics & management: You can provision and manage users, intelligently monitor business interactions, and more right from the centralized administration portal.
Hardware flexibility
Robust device ecosystem: Zoom has a certification program for various hardware categories to help deliver seamless user experiences across all communication modalities. In addition to end user devices and room systems, Zoom also certifies analog devices like paging systems and intercoms.
Zoom Phone Appliances: A full-featured endpoint with both voice and video capabilities that is ideal for executive offices or shared spaces such as huddle rooms.




Zoom for Home: Zoom has partnered with Google, Amazon, Facebook, and Neat to deliver a complete Zoom video and phone experience on popular consumer devices to better enable remote users.

Visit the Zoom Phone website for a full list of available features and additional hardware information.
Zoom is a cost-effective solution for companies moving to a UCaaS solution, as Nemertes Research shows in its 2020 Cost-Benefit Analysis – Workplace Collaboration and Contact Center. For the annual operational cost per license, Zoom is estimated at $525 compared with the industry average of $1,196. A majority of companies surveyed who rely on Zoom for their communications find it superior to the competition for enabling a remote workforce.
Benefits of migrating to Zoom Phone
World Fuel Services had a legacy phone system that required expensive service contracts, on-premises management, and mounting maintenance costs. The organization migrated to the cloud with Zoom Phone and consolidated solutions, saved money, gained operational agility, and improved business efficiency.
Zoom Phone offers flexible options for businesses to connect the cloud PBX to the PSTN (public switched telephone network). These options include Local PSTN Service or Bring Your Own Carrier (BYOC).
Local PSTN options
Zoom Phone offers local PSTN connectivity in 47 countries and territories and continues to add new regions to its portfolio. Zoom Phone offers flexible plans to meet the needs of businesses of all sizes, whether they are a large multi-national company or small businesses with local presence in a single country.
Plans range from regional plans in US/Canada, UK/Ireland, Australia/New Zealand, as well as a Global Select plan for businesses outside these regions. Metered and unlimited plans are available as well as options for toll-free numbers.
BYOC options
Zoom Phone BYOC allows you to enjoy all of the benefits and features of Zoom Phone while keeping your existing service provider contracts, phone numbers, and calling rates with your preferred carrier of record. The result is more flexibility and control for your organization's journey to the cloud.
With Zoom Phone BYOC, the PSTN connectivity can be from the customer premises with trunks from legacy peering known as "premises peering" or from the desired PSTN cloud provider to our UCaaS cloud known as "cloud peering."
"At first we thought, Zoom Phone wouldn't be an option because it wasn't supported in Colombia. But we learned that we could bring our own carrier, which meant that we could run Zoom Phone on Colombia Telefonica's PSTN network."
Santiago Lievano, Head of Information Technology, Frontera Energy
Read More
As you prepare to move your voice communications to the cloud, consider the following:
CHECKLIST
Align with stakeholders
Identify executive sponsors and agree upon business success criteria. Create a cross-functional team across your organization to represent your requirements.
Prioritize
Identify your personas, use cases, and unique voice scenarios. Define how the proposed solution will meet the requirements for every user type. Identify dependencies such as year-end closing or seasonal requirements that may restrict the timing of your deployment.
Review financial savings
It's important to keep in mind that a cloud solution generally has minor up-front investment, unlike an on-premises solution. The spending is more predictable with a cloud solution, and contracts can usually be structured either annually or month-to-month.
Discover and adjust
Do you have legacy requirements that could modernize by moving to the cloud? Meet with providers to discuss options. How many users will be using a desk phone vs. a softphone with a USB device such as a headset. How will you equip mobile-first users?
Plan your migration
If you have multiple sites, you may wish to deploy a smaller site first to acquaint your team with the onboarding process. Ensure to factor in time for porting phone numbers and for awareness messaging to key stakeholders and end users.
Plan for adoption
If you are moving to a new communications platform, or simply adding modalites to your existing one, make time to educate end users about their new capabilities. Coordinate the training with the cutover/migration schedule so users are comfortable with the new solution. Handouts, videos and instructor-led training are all good options. Identify champions across the organization who can help individual teams make the transition.
Expert and self-service training
All Zoom Phone customers qualify for three deployment assistance meetings with the Zoom Phone Enablement Team to configure web portal settings. The following self-service resources are also available:
Video tutorials and quick-start guides for account administrators
Video tutorials and quick-start guides for end users
End-user training kits
For customers with more complex deployments or who would like to professional engineering guidance and project management during the migration, the Zoom Professional Services team can assist with the following:
Dedicated technical project management
Architecture review & design
Implementation & support strategy
Technical consulting services
"This is the smoothest Go Live I've ever been through. The
users would have never known we were moving to a new system if they hadn't had to migrate… and with a 6 week window to do it. We've had projects here that weren't as big as a phone system change that have taken months to do."
Senior VP, Silicon Valley-based online commerce company
"We decided going straight to the experts would cut down on possible issues had we went at it alone. Everything was very intuitive but having a safety net helped assure stakeholders… and the pricing was darn fair – straightforward without any surprises."
Director of IT Online commerce company
Customer success using Zoom Phone
"Traditionally, everyone needed a desk phone. With Zoom, we didn't necessarily need that desk phone anymore. As a result of that transformation, the amount of use for traditional phones went way down. So from an ROI perspective, we could roll out Zoom Phone and decrease costs 30 to 40%."
Craig Williams, CIO, Ciena
Watch Now
"We were attracted to a cloud telephony platform that didn't require SIP trunks, with potential single-points-of-failure, or SIP middlemen because Zoom Phone is a truly global telephone provider. We also learned that we could achieve savings with Zoom Phone over the leading alternatives, and significant savings over our existing telephone system."
David Thomas, Head of IT at UK law firm Stevens & Bolton
Read More
"Our old [on-premises] digital phone system was becoming obsolete. It was antiquated, costly, and difficult to maintain from a technical standpoint. We had to have a network engineer install new phones."
Steven Ramos, Director of Information Services and Technology at the Solano County (California) Office of Education
Read More