Your Guide to Hybrid Learning, Teaching, & Connecting
Use our checklists to prepare for the next phase of education and reimagine schools and campuses for hybrid learning.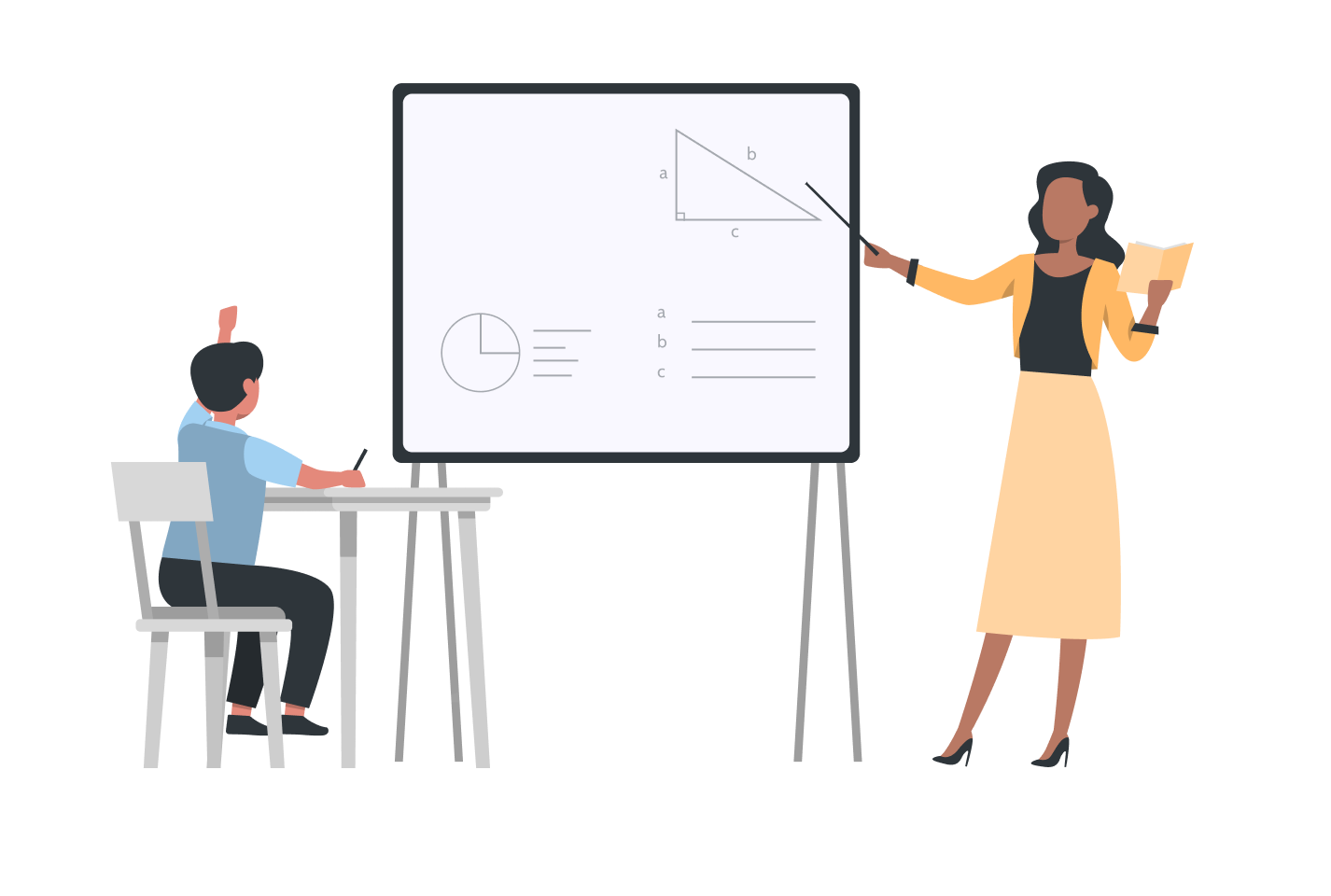 As schools and campuses welcome students fully in person or in a hybrid schooling format, educational leaders are considering how the technology they invest in today can enhance learning for future students. Here are some ideas for teaching, learning, and connecting your educational community in a world of hybrid instruction.
Returning to the classroom post-pandemic means solving new challenges around safety, educational continuity, and communication.
Will parents feel comfortable sending their children to a school at full capacity?
Will schools and universities be able to pivot to remote schooling seamlessly without impacting learning in the event of a future crisis?
What does the future of hybrid learning look like?
Educational institutions are asking these questions and figuring out how to adapt their facilities, infrastructure, and technology for a future of hybrid learning. But people around the world agree that everything will have a virtual component going forward, including education.
53%
of people plan to use a mixture of video conferencing and in-person experiences for education in the future.
Optimize your classroom for hybrid learning and teaching
The COVID-19 pandemic showed us that flexibility in learning environments can help accommodate students with various learning styles, abilities, and needs. Some students flourish on video when they're in the comfort of their home, while others feel more engaged in the classroom. Students who can't go to school due to illness or other circumstances can still connect to the classroom and continue learning, wherever they are.
Equipping classrooms with technology designed to enhance hybrid education allows instructors to focus on teaching while giving both in-person and remote students a high-quality learning experience.
Enable students to hear and be heard
Invest in a Zoom Rooms Appliance or all-in-one device with microphone arrays, noise suppression, and high-quality speakers. With this technology, students can clearly hear and participate in classroom conversations without poor audio getting in the way.
Design your hybrid classroom so students can see each other
Wide-angle cameras provide a classroom view for remote learning participants at home so all students feel connected and part of the class. Two displays at the front of the class can be set up to show a Gallery View of remote students as well as an Active Speaker view.
Give teachers the ability to move around
Cameras with auto-framing capabilities allow teachers to move around the room naturally to fit their teaching style while capturing their actions so remote class members can clearly see.
Use digital whiteboarding for engaging hybrid teaching
With interactive displays, educators can annotate any type of content or write on a digital whiteboard in real time, creating a dynamic learning experience for both in-person and remote students. It's also easy to save and send whiteboards and any annotations, so students can refer back to them later.
Plan virtual field trips and welcome virtual guest speakers
Take in-person and remote students beyond the classroom by bringing new, shared experiences to their learning. Use the Zoom Meetings platform so students can be on camera and ask your virtual guests questions, or host a Zoom Webinars for larger events.
Enable safe, healthy hybrid learning environments
Keeping your campus community safe and healthy will be top of mind as faculty, staff, and students return in larger numbers. While packed lecture halls and full classrooms may have been the norm in pre-pandemic times, these environments need to be reimagined, so everyone on campus feels safe and comfortable.
Here are a few considerations for designing environments that help promote health and safety for your campus community.
Monitor room data for a safe and healthy environment
Supported hardware, such as Neat devices, have built-in air quality sensors that give temperature, humidity, CO2, and VOC readings. Combined with Zoom Rooms' enhanced dashboard reporting, it allows you to monitor the air quality of your room at a glance.
Limit room occupancy
Zoom Rooms can help you monitor and limit large gatherings in a space by using cameras to detect and count people in the room. That information is then shown on scheduling displays outside the room or on Digital Signage.
Use no-touch technology to limit contact with surfaces
Start a meeting in a Zoom Room with the Voice Commands feature, integrated directly into iOS Zoom Rooms controllers. Educators can also share content wirelessly from their own personal devices without having to touch communal controllers.
Post health and safety reminders, rules, and updates
Use Digital Signage to show rules and reminders for social distancing, hand sanitizing, and mask-wearing, and keep your students informed of updated policies.
Virtualize front office communications
Zoom Rooms' Kiosk Mode lets you put a virtual receptionist in your front office, student life center, admissions office, or any high-traffic department to safely welcome guests.
Strengthen communication with your school community
Business continuity planning is a must for organizations in every industry, and education is no different. Campus and district leaders need to reach their staff, faculty, and parents at a moment's notice without relying on their desk phones, and educators need to maintain communication with their students and families, even when they're not in school. Parents and students should have flexibility in how and where they get information from their school or university.
Here are a few ways you can future-proof campus communications and keep your community connected.
Support business continuity with a cloud-based phone system
A cloud VoIP phone system like Zoom Phone has a softphone that enables faculty and staff to make and receive calls from any device, including their desktop and personal mobile phone, using their business phone number.
Enable educator privacy when working or teaching remotely
Many educators use their personal devices to call or text parents or students — especially when working remotely. With Zoom Phone, they can keep their personal phone number private by setting a business phone number as their outbound caller ID for calls or SMS/MMS text messages.
Improve communications for campus emergencies
Campus communications need to be in lockstep during an emergency. Zoom Phone's Nomadic E911 feature allows emergency response teams to determine the location of the caller on campus. When an emergency number is dialed, Zoom will notify your designated internal safety team and use Digital Signage to direct first responders.
Use instant messaging to keep faculty and staff informed
Zoom Team Chat provides a free instant messaging platform for faculty and staff communication. You can customize chat channels for different departments or groups, and even create rules around who can post —so one channel could be used for updates from leadership, and another could be an open forum for teachers to chat.
Give students and parents different options for communication
Even though students are back in the classroom, offering the option to attend PTA meetings, parent-teacher conferences, tutoring sessions, faculty office hours, or other gatherings virtually can help those with busy schedules stay connected.
In this new era of education, schools and universities can combine the benefits of a hybrid learning model with in-person learning to improve accessibility and personalize student experiences.
Educational institutions at every level can enhance how they deliver education — even through a sustained crisis like a pandemic — and build more adaptable, flexible ways of teaching, learning, and connecting.
Visit our Zoom for Education page to learn more about building connected hybrid school campuses on the Zoom platform.