Optimize your bandwidth with a native eCDN
Zoom Mesh native eCDN streamlines content delivery for high-quality Zoom Webinars and Zoom Events regardless of available bandwidth.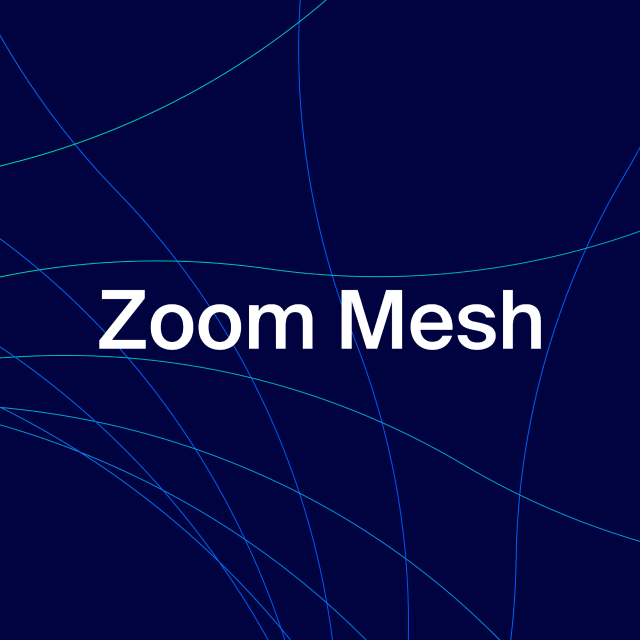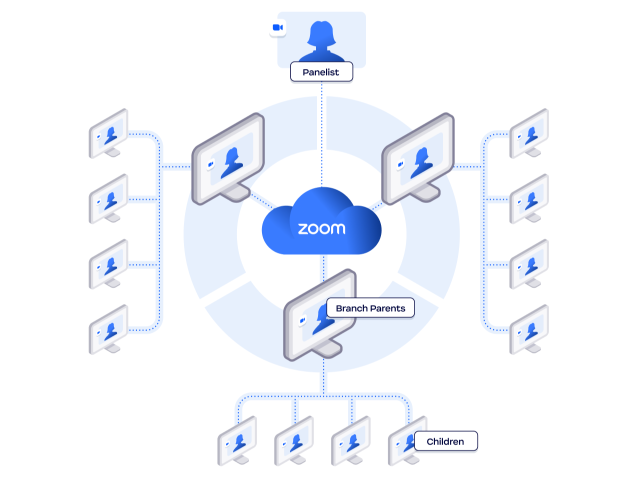 Why Zoom Mesh?
More people in the office means more overload to your WAN or internet connection. Now, you can minimize bandwidth constraints that are associated with large internal events and webinars.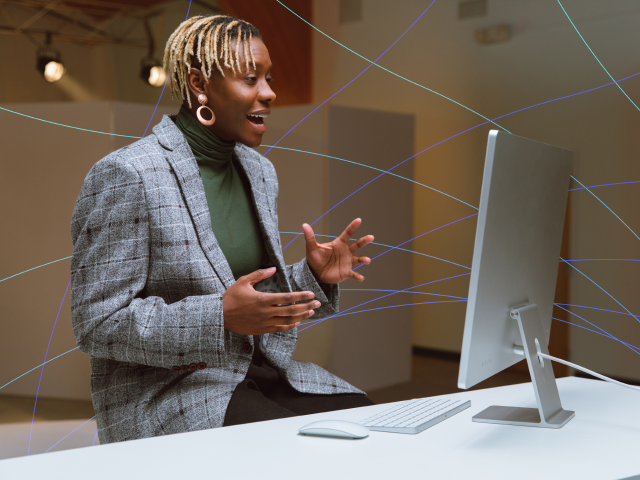 What could you achieve with more bandwidth?
Go in depth with Zoom Mesh and discover what our eCDN can do for your business.
Zoom Mesh FAQ
Zoom Mesh is a licensed enterprise content delivery network (eCDN) which allows the Zoom client to redistribute Zoom Webinars and Events media directly between clients in a peer-to-peer fashion within the same network to optimize bandwidth. Zoom Mesh is a native eCDN that uses client peering mesh and rebroadcasting technology within the same network.
As employees return to the office and continue to hold large all-hands style Webinars and Events, organizations are concerned about the amount of bandwidth consumed by potentially hundreds of clients simultaneously joining a webinar or event within an office all while preserving the end user experience.
By relaying media between clients within the network, Mesh saves significant internet/WAN bandwidth by eliminating duplicative video streams from the cloud.
Rather than having every client receive a video stream directly from the cloud, only a select number of clients will receive this stream and then redistribute it to other clients in the network, significantly reducing the amount of internet bandwidth required to attend the Webinar or Event.
Zoom Mesh supports bandwidth optimization of Zoom Webinar and Zoom Events. Zoom Mesh eCDN is native to Zoom. Its capability is built into the Zoom Clients which are controlled by the new cloud function called Mesh Orchestrator. Zoom mesh doesn't require any additional software or hardware to operate.
Zoom Mesh provides the following benefits over the third party eCDN solutions integrated with Zoom Webinars and Zoom Events:
Native to the Zoom client, Zoom Mesh maintains the native Zoom user experience for Webinars and events hosts and attendees.
Simple cloud-based management – Zoom Mesh allows for the automatic discovery and creation of a Mesh controlled from the Zoom cloud.
Unified, native join and calendaring experience. Traditional eCDN solutions require different join links (URLs) for attendees of a webinar. A user of such solutions will receive re-streamed media through a web-based interface and will not benefit from native Zoom experience or features like chat, raise hand, translation, etc. Zoom Mesh does not have this limitation. Join a webinar with the typical Zoom join flow, and Zoom Mesh will be automatically used if the client is in a location where a mesh has been enabled.
Happier IT: Single platform to handle Webinar and Events rather than integrating Zoom to a third-party.
Utilization/Analytics native to the Zoom admin web portal rather than a separate interface.
Zoom Mesh is built into the standard Zoom Client as of version 5.12.6. It is a native to the Zoom client experience. Zoom Mesh maintains the excellent Zoom user experience with no changes.
The standard Zoom Client will be capable of being either a Parent (receiving media from the cloud) or Child (receiving media from the parent) in a Zoom Mesh environment, determined by a cloud orchestration services.
Contact your Zoom sales representative to learn more about Zoom Mesh pricing.
Don't lag behind
Communicate faster with more bandwidth. Talk with us today.